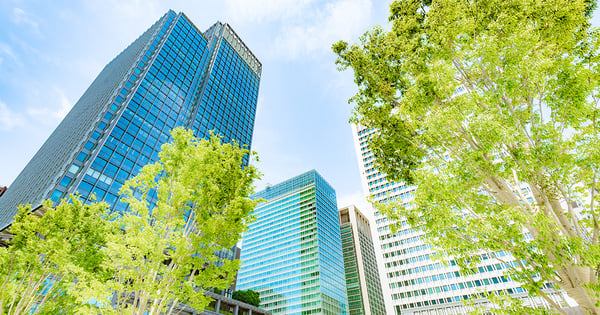 Regarding commercial real estate, decisions on managing resources such as energy, water, and waste directly impact financial performance and tenant well-being. As a result, many REITs have adopted an integrated operational efficiency solutions (OES) approach to minimize their impact on the environment and human health, providing a holistic solution to a complex problem. A critical component of operational efficiency is ultra-long-life LED lighting which benefits energy efficiency, reduces operating costs, and increases property value.
Financial Benefits to REITs
Whether through their design, construction, or operation, green buildings help reduce negative impacts on the natural environment by using less energy and operating with a reduced carbon footprint. This positive value for the climate also benefits the economy, as documented in a 2018 Harvard study where green-certified buildings provided approximately $6 billion in health and climate benefits beyond the $7.5 billion in energy savings.
Green building certifications, like Leadership in Energy and Environmental Design (LEED), can deliver significant financial benefits to REITs in several ways. The most obvious benefit is the energy savings from operational efficiency projects like LED lighting installation that work to meet LEED requirements for certification. Combined with lighting controls, LED lighting systems can result in substantially lower utility bills, decreased maintenance costs, and improved bottom line.
Additionally, green building certifications can enhance the value and marketability of properties by making them more attractive to investors and tenants. Operational efficiency solutions that contribute significantly to these certifications, like LED lighting and HVAC optimization, support sustainability initiatives and align with ESG goals that tenants might have. According to Nareit, green building certifications can create consistent demand, leading to up to 23% high occupancy rates, 8% higher rental income, and up to 31% higher sale premiums than realized for traditional buildings.
Identifying Energy Efficient Opportunities
Over the last few years, energy efficiency has steadily risen to be a top priority for REITs and their investors and tenants. Coincidently energy efficiency is a primary component of green building certifications and can be driven through investments in operational efficiency solutions. For example, LED lighting continues to be the top retrofit project for energy efficiency and HVAC optimization using controls, sensors, and artificial intelligence (AI). Ultimately a building's energy management system enables line of sight to optimize building systems that respond more effectively to demand and reveal the potential for energy savings without sacrificing occupant comfort. Not only are energy savings a requirement for specific green building certification, as mentioned, but the lower electrical consumption reduces the equivalent greenhouse gas emissions (GHG) and effectively reduces a building's carbon footprint. Once again, this contributes to green building recognition and increases its role in climate change mitigation. So, an experienced partner like US LED has the proficiency to help REITs identify which systems to address first, which efficiency solutions optimize operations, and can provide strategies that help fund projects like rebates or tax deductions (Section 179D).
Turn Your Assets Into More Green
There is proven value in retrofitting and transforming an existing property to meet most green building standards. In addition, more REITs realize that these properties have happier, more productive tenants because of improvements like LED lighting upgrades, HVAC optimization, and other critical areas addressed by an operational efficiency solutions strategy. All of which translates into better long-lasting relationships with tenants and more profitable properties.
Whether you're constructing a new property, or retrofitting a recent acquisition, consult with an experienced partner like US LED to develop a plan for optimizing operations, advancing energy efficiency, and implementing solutions that support green certifications while improving profitability.
Sources