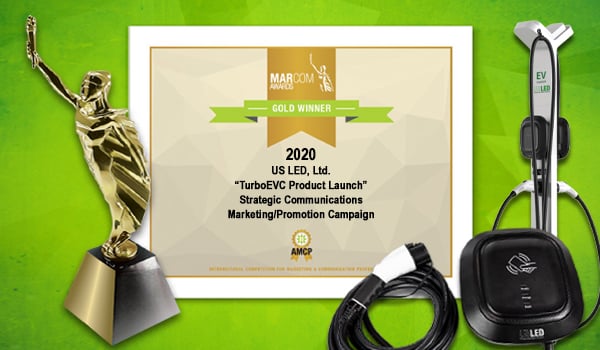 Houston, Texas (November 9, 2020) — US LED is proud to have earned a 2020 Gold MarCom Award for Strategic Communications with its "TurboEVC Product Launch" marketing campaign. With over 5,000 entries world-wide, the MarCom Awards is an international competition that recognizes outstanding achievement by marketing and communication professionals.
Entries come from corporate marketing and communication departments, advertising agencies, public relations firms, design shops, and production companies. US LED's project entry focused on the integrated marketing campaign surrounding the TurboEVC EV charger product launch. The primary goals of this campaign were to create awareness in the marketplace and elevate brand awareness for US LED in this category.
The MarCom Awards is administered and judged by the Association of Marketing and Communication Professionals. This international organization consisting of several thousand creative professionals oversees recognition programs and sets standards for excellence.
As part of its mission, AMCP fosters and supports the efforts of creative professionals who contribute their unique talents to public service and charitable organizations. Over the past few years, AMCP's Advisory Board has allocated over $250,000 in grants and contributions to support philanthropic efforts like COVID-19 relief efforts.
Judges are industry professionals who look for companies and individuals whose talents exceed a high standard of excellence and whose work serves as a benchmark for the industry. The Gold Award is presented to those entries judged to exceed industry standards with approximately 24 percent of entries winning Gold status.
A list of all winners can be found on the MarCom Awards website here.
About US LED, Ltd.
For over 19 years, US LED has been a full-service provider of commercial lighting, signage, and technology solutions. Because of our early history in LED lighting, US LED has decades of engineering expertise to continuously offer ultra-long-life luminaires that approach or exceed 200,000-hour L70 lifetimes and are backed by an industry-leading Ten-Year Warranty. Many of our lighting products are assembled in our plant in Houston, Texas. For more information, please visit www.usled.com and follow us on LinkedIn, Facebook, Twitter, and Instagram.