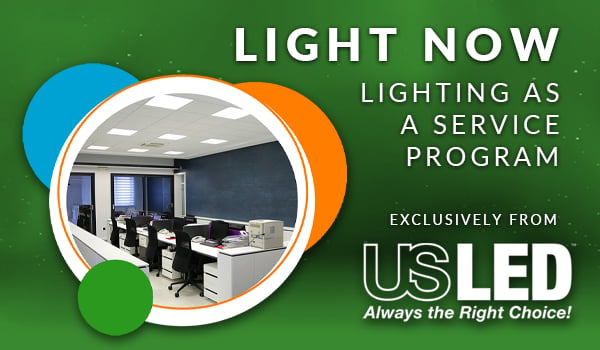 Houston, Texas (February 27, 2020) — US LED, the leading provider of ultra-long-life LED lighting solutions, announced today the launch of its new Lighting as a Service (LaaS) program – Light Now™. With the introduction of Lighting as a Service, US LED will be able to offer customers the opportunity to install new LED lighting solutions in their facilities with no upfront capital.
This allows businesses to benefit from new LED lighting as a monthly service agreement and avoid taking on capital expenditures on their books. "We are excited to further expand our offerings with LED lighting in the marketplace," said Ron Farmer, CEO at US LED. "We believe that this new program will distinctively position us to capitalize on the continued growth of turnkey LED lighting that's supported by our industry-leading project management team."
What is Lighting as a Service (LaaS)?
For companies looking to increase efficiencies, Lighting as a Service (LaaS) reduces overall energy consumption and eliminates maintenance. It's an all-inclusive subscription that allows business owners the ability to have energy-efficient LED lighting with no upfront capital. Monthly payments divide the cost of the new LED lighting, the installation, and the maintenance. Because Lighting as a Service is defined as a service agreement, it's designated as an operating expense and not a capital expenditure on the books. For more information about the Light Now Lighting as a Service Program, visit our LaaS web page.
About US LED™
For over 18 years, US LED has been a full-service provider of commercial lighting, signage, and technology solutions. Because of our early history in LED lighting, US LED has decades of engineering expertise to continuously offer ultra-long-life luminaires that approach or exceed 200,000-hour L70 lifetimes and are backed by an industry-leading Ten-Year Warranty. Many of our lighting products are assembled in our plant in Houston, Texas. For more information, please visit www.usled.com and follow us on LinkedIn, Facebook, Twitter, and Instagram.
How does upgrading to LED lighting with zero upfront cost sound? We think it sounds pretty good too.