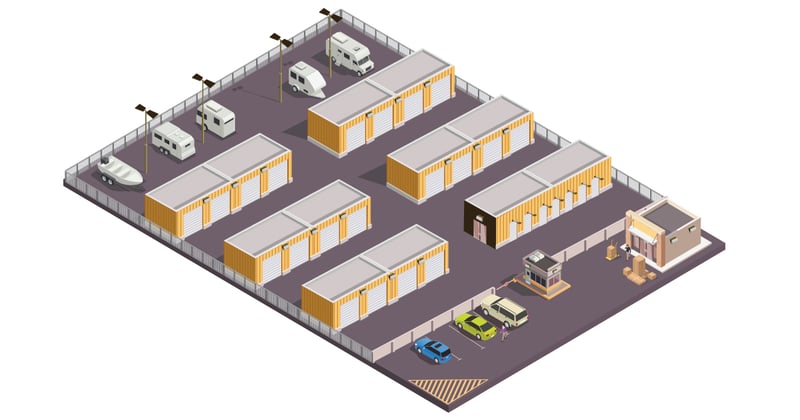 Self-storage operators and managers always look for opportunities to reduce operating costs, increase safety standards, and enhance facility security. With a complete portfolio of LED lighting solutions for self-storage facilities available from US LED, you'll undoubtedly increase property value, all while improving the customers' experience on-site. Are you ready to take your property to the next level? Discover how lighting controls can optimize operations, accelerate efficiencies, and allow a new level of insight into your facilities' use. Download our latest infographic here to learn which storage unit lighting solutions will work in each area of your facility.
Going Beyond Industry Standard
US LED has been an industry standard for architects specifying lighting for self-storage facilities because of performance and L70 lifetimes. L70 is the estimated number of hours of use where the initial lumen output has degraded by 30% when installed initially. When the typical industry standard is 50,000-100,000 hours, US LED continuously offers ultra-long lifetime luminaires that approach or exceed 200,000 hours. Even better, US LED offers a Ten-Year Warranty that provides greater safety, less hassle, and more peace of mind.
Additional Lighting Services
US LED offers additional lighting support services for organizations that are actively pursuing energy conservation and sustainability projects, especially for ESG initiatives. Those lighting services include:
About US LED, Ltd.
Since 2001, US LED has been a full-service provider of commercial and industrial LED lighting, sign lighting, and other building technology solutions. Thanks to decades of engineering expertise, US LED continuously offers ultra-long-life lighting that approaches or exceeds 200,000-Hour L70 lifetimes, backed by our industry-leading Ten-Year Warranty. Additionally, much of the product portfolio gets assembled in Houston, Texas. www.usled.com