What is ESG?
ESG is a set of standards used to measure the sustainability of an organization regarding environmental, social, and governance initiatives.
Environmental reflects how a company's operations affect natural resources and climate change:


Includes use of renewable energy sources, waste management program, product packaging, raw material sourcing, biodiversity practices on company-owned land, potential operations-related air, and water pollution issues.
Social considers the effects of a company's behavior regarding social issues:
Includes equitable employee compensation and benefits, employee-management engagement, employee turnover, workplace policies, ethical suppliers/vendors, charitable contributions.
Governance examines how a company is managed by its executives and board of directors:
Includes financial reporting transparency, executive compensation, stockholder engagement, avoidance of conflicts of interests, diversity of executives and board of directors.

Societal Shifts
A large part of the tremendous growth of awareness of ESG is due to increasingly socially conscious employees and customers demonstrating their commitment to making the world a better place and their willingness to align their use of time, money, and talents with their values. As the circle of accountability expands to include local and federal governments, corporations, employees and consumers, businesses are more consciously taking additional and more measurable steps to protect the environment, improve working conditions, and close pay disparities where they exist. ESG was initially publicly espoused by large global companies but is increasingly embraced by private and publicly traded companies of all sizes.

Integrating ESG Into Your Business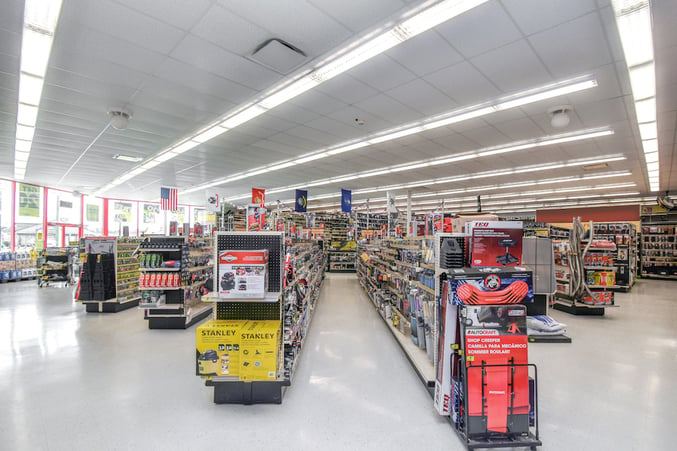 Commercial buildings consume 35 percent of all electricity in the U.S and generate 16 percent of all U.S. carbon dioxide emissions, and provide an excellent opportunity to reduce energy use in those spaces.
While comprehensive ESG strategies should be thoughtful and include initiatives across all three pillars, a few simple yet impactful measures – LED conversion programs, improvements in indoor air quality (IAQ), and the installation of EV charging stations - can be implemented quickly. US LED has the value-added services to support these types of energy conservation and sustainability measures allowing businesses to further meet their ESG goals and consumer expectations right away. Additionally, there is financial assistance or alternative funding for LED and EV charger projects.
A Bright Future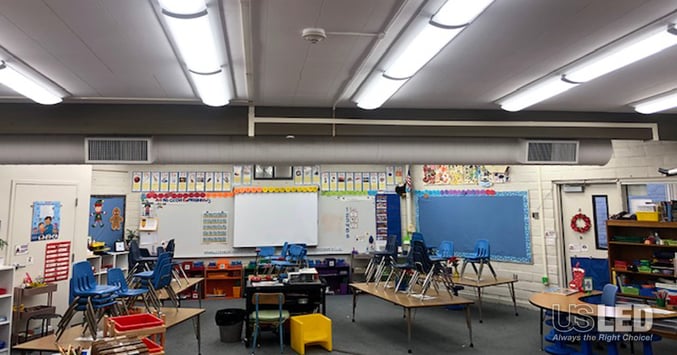 Business owners can lower energy and operational costs while meeting sustainability efforts by converting existing lighting systems to the most updated LED lighting technology. For example, converting from fluorescent and other inefficient incumbent lighting technologies or less efficient earlier generations of LED lighting can provide:
Lower energy costs:

LED technology uses up to 75 percent less electricity than incandescent and fluorescent options, resulting in substantial energy savings, especially in areas utilized for extended periods.

Lower operational costs:

US LED lighting solutions are engineered for high quality and longevity thereby approaching or exceeding 200,000 hours L70 lifetimes, substantially reducing lighting maintenance needs for decades, in most applications.

Environmentally friendly LED materials:

LED lighting products are composed of non-toxic, recyclable components, effectively eliminating the old disposal programs associated with legacy technologies like CFLs, metal halide, and fluorescents that have mercury. In addition to the growing number of LED recycling programs, the lighting industry is making further improvements to the end-of-life cycle of LED light bulbs.

Reduced carbon footprint:

LEDs consume less power than traditional halogen, mercury vapor, metal halide, and fluorescent light sources. When quantified using the EPA calculator, reducing greenhouse and carbon dioxide emissions from LED is substantial. For example, one retailer converted over 8,000 locations to LED lighting and saved a combined 226 million kWh/year. As a result, there was a reduction of 353,097,297 lbs. of CO2 equivalent. That's the same as removing 34,510 gas-powered vehicles from the road and 189,542 acres of U.S. forests saved.

Employee and customer well-being:

A well-lit business increases productivity and helps employees and customers feel safer in parking areas by discouraging criminal activity and reducing vandalism and accidents.

Alternative funding sources:

Most LED installations realize a beneficial return on investment (ROI) with paybacks of three years or less. Utilities and state programs offer rebates and incentives to encourage LED lighting use. In addition, Lighting as a Service (LaaS), a model used to implement energy-efficient lighting projects without upfront capital, has gained traction. This scenario allows the end-user to install new LED lighting and maintain it with only a monthly service agreement as payment over the program's life.
The energy and operational savings, reduced carbon dioxide emissions, and available alternative funding make LED retrofits a logical component of an effective ESG strategy.

Thanks to our early history in LED lighting, US LED has decades of engineering expertise to offer innovative LED luminaires and lamps for every commercial and industrial business. In addition, US LED provides value-added services that support these types of projects, including on-site lighting audits, photometric studies, turnkey installation, and rebate management. Since we control the quality process and engineer and assemble products in Houston, we can offer our industry-leading Ten-Year Warranty to give the buyer confidence that his lighting will exceed safety and energy efficiency standards decades from now.
Leading the Charge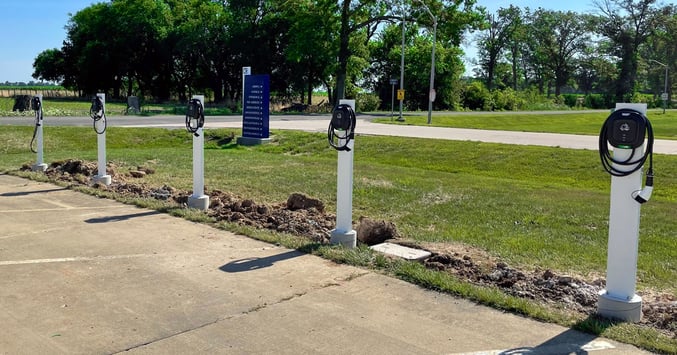 Providing electric vehicle (EV) charging infrastructure on your property can play a significant role in your organization's environmental impact. The installation of EV charging stations:
Reduces carbon footprint:

Vehicle emissions are typically divided into air pollutants, contributing to smog and greenhouse gasses (GHGs), such as carbon dioxide and methane. Well-to-wheel emissions include all emissions related to fuel production, processing, distribution, and use.3 EVs emit no air pollutants or tailpipe emissions and produce 3.9K pounds of well-to-wheel CO2-equivalent emissions compared to 11.4K pounds produced by a gasoline-powered engine.3

Boosts brand:

Taking concrete steps like investing in EV chargers to increase sustainability can enhance an organization's brand image by demonstrating a social consciousness and a willingness to embrace meaningful change.

Attracts customers/employees and builds loyalty:

People want businesses to invest in sustainable improvements and not just comply with regulations and are willing to reward those who do so. A PwC study shows that up to 80% of consumers are more likely to buy from and 84% of employees are more likely to work for a company that supports environmental issues. Conversely, 76% of consumers indicated they would part ways with companies that treat the environment poorly.5

Provides financial incentives:

Businesses have access to multiple financial incentives to install EV charging infrastructure that can significantly reduce costs including tax breaks. Additionally, EV charging stations are a potential revenue stream for property owners.
EV charging stations can build brand loyalty and demonstrate businesses commitment to non-polluting technology alternatives. These responsible choices can also lead to healthy returns for business owners and shareholders.
The latest generation of investors and consumers are justifiably concerned about the future. They expect companies to make a meaningful impact on environmental, social, and governance issues. It makes sense that companies of all sizes throughout multiple industries have adopted new business strategies that support ESG. LED lighting, IAQ, and EV charger installations are simple and cost-effective projects that demonstrate a commitment to a triple bottom line philosophy: supporting the wellbeing of employees, promoting environmental conservation, and saving money on energy management.