There is more to efficiently lighting commercial properties than just choosing the brightest LED luminaire or buying as many lights as you can within your budget. Commercial property owners can use LED technology correctly with a lighting design that applies IES standards and the added insight from lighting experts. But what precisely about LEDs give them the most significant benefit for lighting designers to provide ideal coverage? It starts with precision-molded optics designed for area lighting. Furthermore, these optics create specific lighting distributions that allow designers to develop photometric layouts with optimal uniformity. Whether you are planning new construction or getting ready to retrofit an existing system, understanding how these LED light distributions impact your property is critical for safe and efficient illumination.
Understanding Light Distribution Patterns
Excellent lighting design on any scale starts with a great plan. However, before designing with LED optics and distributions in mind, you must understand how they are defined. Photometric layouts apply specific standards for each application type, as the Illuminating Engineering Society of North America (IESNA) recommends. Furthermore, the IESNA introduced a classification system for LED light distribution patterns that define how specifiers use LED luminaires for projects. Here are the most common distribution patterns and why those patterns are explicitly used in an application.
Please note that the images below illustrate general IES distribution types from similar mounting heights. Refer to a manufacturer's specifications and IES files for detailed photometric data.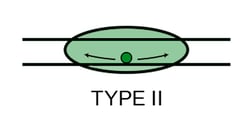 Type II Distribution
Type II distribution forms a broader, lateral oval pattern typically used for narrow lighting applications. The width of this light pattern is approximately 1.5 times wider than the mounting height of the luminaire. Examples might include the front row at auto dealership outdoor lighting, walkways, side streets, jogging paths, and entrances from the roadway.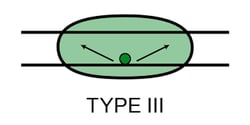 Type III Distribution
Type III distribution projects light equally forward on both sides in an asymmetric pattern, slightly further ahead than Type II, but marginally less side to side. LED luminaires using this distribution are placed on the side of an area where the light projects outward, usually from building exteriors. The width of this light pattern is about 2.75 times wider than the mounting height. Commonly referred to as the "batwing" distribution, Type III gets used in parking lots, wider roadways, and other applications requiring more extensive lighting.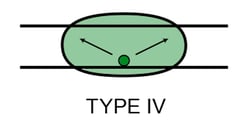 Type IV Distribution
Type IV distribution maximizes the amount of forwarding light in a more extended, semicircular pattern. More known as the "forward throw" distribution, it is used around the perimeters of parking lots where there's no desire for the light behind the pole. The width of this pattern is about 3.7 times wider than the mounting height of the luminaire. It is also used for sports applications and parking areas on the sides of buildings.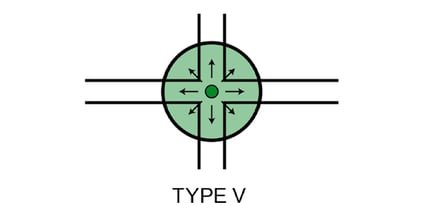 Type V Distribution
Type V distribution forms a large symmetrical round or square pattern that allows the light to have the same intensity at all angles. This distribution pattern is used in parking lot interiors, crossroads, and roadway centers. In addition, it's meant for large commercial parking lots where evenly distributed lighting is necessary.
Do you want to learn more about how LED lighting can transform your commercial property? Our in-house team of lighting experts can complete comprehensive photometric layouts so you can visualize your lighting and feel more confident. The following can be included with US LED photometric studies:
2D/3D luminaire placement with specified mounting positioning in an application.
Point-by-point footcandle calculations to identify how much light will hit a target surface.
"Heatmap" model to visualize how the light is dispersed.
Complete luminaire schedule outlining product details and mounting positioning.
You can also view our outdoor LED lighting solutions or browse application-specific solutions, like auto dealership outdoor lighting. Are you looking to complete a national rollout of multiple locations? Tell us about your project here.