As a supporter of the Department of Energy's (DOE) Integrated Lighting Campaign and an advocate for the Better Buildings initiative, US LED recognizes the vital work that the DOE does to convene with leaders across multiple industries in peer exchanges to discuss ongoing challenges and opportunities. In these peer exchanges, organizations across various sectors of the economy learn and share best practices in energy efficiency and decarbonization. More specifically and recently, energy efficiency financing alternatives for such projects.
Resources Available For Financing Energy Efficiency
In the most recent peer exchange, leaders from several sectors, including healthcare, hospitality, and retail, food service, and grocery (RFSG), met to discuss successful energy efficiency financing options available in the market for projects. In addition, they examined successful project implementation, the benefits of Energy Services (like Lighting-As-A-Service), and best practices for working with third-party financing groups and tax advisors. The diagram below summarizes some of the financing options discussed that are available.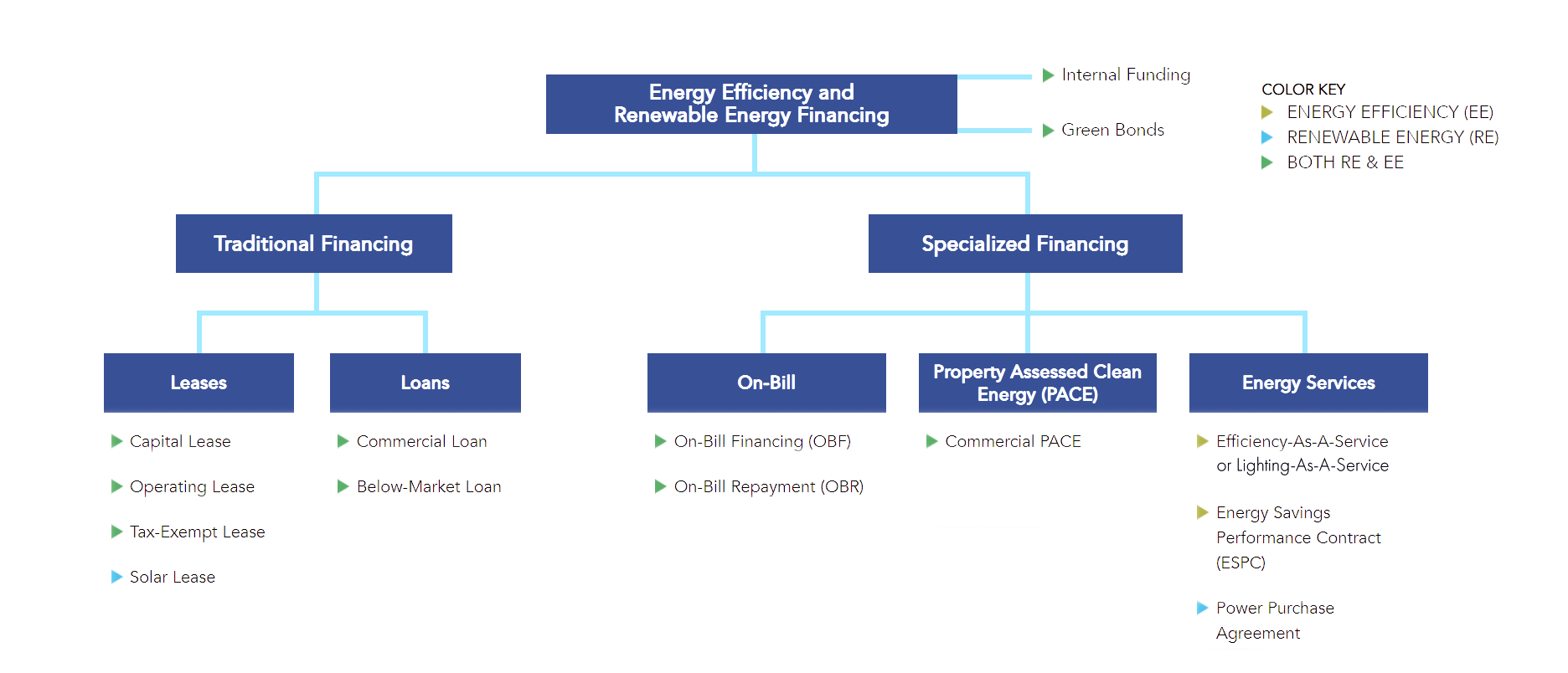 Diagram by Better Buildings Initiative of the U.S. Department of Energy.
Engaging Franchisees For Successful Projects
As some corporations with franchising models continue to set emissions reduction targets, leaders must establish actionable goals with franchise owners to be more effective. Unfortunately, franchise owners bear the burden of capital costs upfront for their buildings, including retrofit projects and renewable energy integration. Therefore, it is critical that everyone at a corporate level supports and provides resources to these franchisees for successful energy-efficient project implementation. By packaging proven scalable and marketable programs that show a faster return on investment, organizations can help franchise owners understand the value of energy efficiency projects and the long-term cost benefits.
Using A Partner To Reduce The Burden of Project Management and Financing
With so many initiatives to consider, companies may become overwhelmed with all the facets involved with managing numerous energy efficiency projects across multiple locations and how to finance them all – notably if there aren't dedicated staff to fulfill these roles. To address capacity, consider an operational efficiency partner like US LED that provides customers with end-to-end project experience to reduce the burden of multi-vendor coordination. US LED is a trusted provider that's customer-focused, offering a dedicated project management team, delivering turnkey installation, and will be a strategic partner for operational efficiency for your organization.
For those looking to implement energy reduction programs and achieve operational efficiency goals, US LED can provide the following:
Commercial and Industrial LED Lighting Solutions

Integrated Lighting, HVAC, and Building Controls

World-Class Project Management Teams

Return on Investment Analysis

Rebate and Tax Incentive Management

Nationwide Turnkey Installation

Active Load Management Programs

HVAC and Building Optimization



Sources: