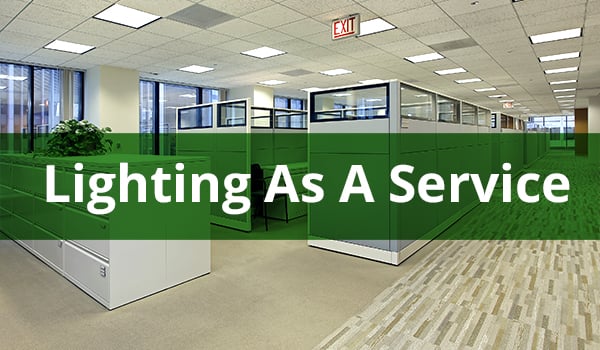 Why spend money on lighting when you can use it for something with better leverage? It's a question often contemplated when businesses look to increase efficiencies but cannot afford the initial investment of an LED lighting retrofit. Becoming an emerging business model, Lighting as a Service (LaaS) offers a creative solution to that dilemma and helps reduce overall energy consumption and maintenance. So, what makes lighting as a service so attractive to businesses? How does it solve the internal battle for capital requests? Let's dive into the benefits that make lighting as a service great for business and convince management to make it an option worth considering.
What is Lighting as a Service?
Lighting as a service is an all-inclusive subscription that allows business owners the ability to install energy-efficient LED lighting with no upfront capital. Monthly payments paid to a third-party spread the cost of the new LED lighting, the initial installation, and the ongoing maintenance over the life of the agreement. Lighting as a Service helps to create a reduction in energy usage and simultaneously cuts down lighting maintenance by installing new LED lighting requiring no up-front capital to customers. Because it's defined as a service agreement, it's designated as an operating expense that does not show up on the balance sheet. LaaS is cash-flow positive day one because the energy savings and lack of maintenance costs pay for the service agreement.
How Does Lighting as a Service Work?
Most consumers subscribe to monthly services like Netflix, Dollar Shave Club, Dropbox, or Home Chef to make life convenient. Not only are they budget friendly, but they are easy to get started with. While you could invest the time and money to create our own product, it makes more sense to take advantage of these type of services that are designed to get you what you need. Lighting as a Service mirrors the same subscription business model. So, what does the implementation process look like?
An on-site audit is conducted by a licensed contractor to evaluate the current lighting system and assess the new lighting requirements based on the application.

Once the audit is completed, a custom LED lighting solution is designed and included into a Lighting as a Service agreement proposal.

After the service agreement has been executed, the new LED lighting solution is installed by a licensed electrical contractor.

When the installation is completed, you will enjoy increased energy savings and ongoing maintenance at a fixed monthly cost for the duration of the service agreement.
How Does Lighting as a Service Differ Than Other Procurement Methods?
Capital Expenditure – This requires that lighting systems are paid for upfront and businesses have complete ownership. Any future service or maintenance beyond the initial manufacturer's warranty is up to the owner to take care of.

Loan or Lease Agreement – This reduces the initial expense of a new lighting system upfront, but it is still considered a capital expense. Besides the interest over the time of the loan, you're responsible for the service and maintenance beyond the initial manufacturer's warranty.

Lighting as a Service – A monthly subscription that spreads the cost of the lighting, installation, and ongoing maintenance over the term of the agreement. Because it is a service agreement, it is designated as an operating expense and not a capital expense.
8 Benefits That Lighting as a Service Offers Businesses
Zero Upfront Capital
All the energy-efficient LED luminaires in a custom solution are included in the lighting as a service agreement and requiring no capital expenditure by the business.
Zero Installation Costs
The entire turnkey installation involved with Lighting as a Service is covered by the agreement and is the obligation of installer. It is installed with no negative impact on day-to-day operation costs.
Zero Lighting Maintenance
For the business, all maintenance costs associated with the lighting are eliminated. Parts and labor remain the responsibility of the installer under the service agreement.
Immediate Savings Day One
From the moment the lights turn on, the new LED lighting solution will significantly reduce costs associated with energy consumption and maintenance. That means the business is cash flow positive day one.
Improved Business Productivity and Safety
With improved light levels and the elimination of maintenance, employees can be more productive by focusing on the task at hand avoiding hazards associated with poor visibility.
Environmentally Friendly
With energy-efficient LED lighting, businesses can reduce their carbon footprint and increase their focus on sustainability even more. LED technology can also indirectly benefit HVAC costs by reducing the heat previously generated by legacy lighting technology.
Protection Against Technological Obsolescence
With lighting as a service, the installation will include world class advanced LED lighting technology available. At the end of the service agreement, if desired and agreeable to both parties, upgrades can be completed where necessary to continue the ongoing savings by extending the agreement.
Project Management Through The Entire Process
Providers are committed to seeing your lighting upgrade being completed successfully and efficiently. Projects are managed with a single point of contact so that they are finished efficiently and comply with local, state, and federal requirements.
The Future of Lighting as a Service
With the lighting industry in the midst of change as LED lighting becoming ubiquitous and controls continuing to improve, Lighting as Service programs are seeing an upward shift in demand as decision makers consider the options available and how they are implemented and the relative advantages of each. According to a new report from Navigant Research, the market for Lighting as a Service for commercial buildings is expected to grow to $2.6 billion by 2026. Because Lighting as a Service breaks the mold of a traditional financing model and offers an increased number of turnkey services, customers now have access to full-scale offerings never seen. With the capabilities that Lighting as a Service offers, each day that passes without acting is savings foregone.
How does upgrading to LED lighting with zero upfront cost sound? We think it sounds pretty good too.