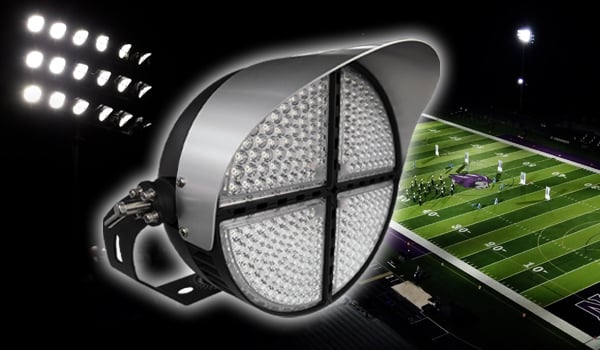 Houston, Texas (November 12, 2020) — US LED, the leading provider of ultra-long-life LED lighting solutions, announced today the launch of Atleta, a new LED lighting solution for sports venues. Engineered specifically with sports and entertainment venues in mind, Atleta offers superior illumination and specialized NEMA optics so that you don't miss a minute of the competitive action.
In addition to having greater visibility, Atleta can be a complete system that leverages every capability of solid-state lighting technology when paired with intelligent controls. Flexible control solutions can allow for individual fixture control for specific functionality or create scenes with multiple pole control. Whether it is a simple on/off function or something complex like pinwheeling, you can elevate the game experience with dynamic output and monitoring capabilities.
Atleta Key Product Features:
Superior performance with advanced thermal management.

Lumen packages ranging up to 106,000 delivered lumens.

Excellent uniformity that renders true colors on the field (70+ CRI).​

Versatile mounting options for any outdoor sports venue.

Additional intelligent lighting controls and monitoring available.
About US LED, Ltd.
For over 19 years, US LED has been a full-service provider of commercial lighting, signage, and technology solutions. Because of our early history in LED lighting, US LED has decades of engineering expertise to continuously offer ultra-long-life luminaires that approach or exceed 200,000-hour L70 lifetimes and are backed by an industry-leading Ten-Year Warranty. Many of our lighting products are assembled in our plant in Houston, Texas. For more information, please visit www.usled.com and follow us on LinkedIn, Facebook, Twitter, and Instagram.
Want to learn even more about the benefits of sports lighting? Check out more on our Sports Lighting application page.