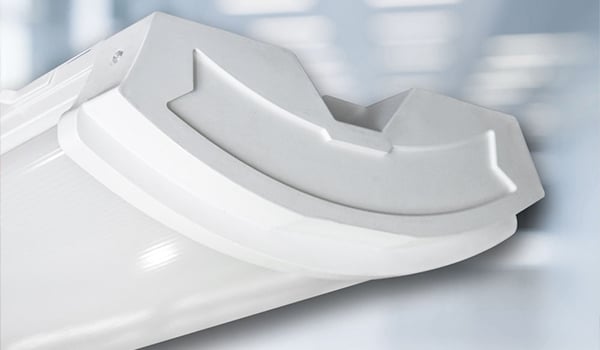 Houston, Texas (August 26, 2019) — US LED extends its popular indoor product portfolio with the new LSF LED linear wraparound luminaire. It's mounting flexibility and pleasing visual appearance literally sets itself apart from the competition. With a streamlined form factor that's new but feels familiar, the LSF offers significant energy savings with low wattage options (25W-50W).
"I am especially pleased to add this new product to our portfolio of ultra-long-life LED lighting solutions," says Ron Farmer, CEO at US LED. "And proud of the exceptional job our team does as we navigate this constantly evolving technology and marketplace."
US LED's new LSF linear wrap is designed to be the optimal solution for lighting educational facilities, offices, retail spaces, industrial areas, and any other commercial applications. It's configurable to allow one-for-one replacement of existing fluorescent wraps without disrupting the look of the overall space. The low-profile housing offers 4 ft. and 8 ft. models that accommodate lumen packages up to 8,520 lumens. Most importantly, the proprietary mounting back plate for surface mounting allows professionals to quickly finish installation within minutes and reduce their overall labor.
Product Features
• Available in 4 ft. or 8 ft. models with packages up to 8,520L and 142 LPW.
• 161,000 hours L70 Calculated Lifetime.
• Best-in-class LEDs available in 3000K, 3500K, 4000K, or 5000K CCT (minimum 80 CRI).
• Designed to facilitate quick installations - suspended or surface mounted utilizing our proprietary mounting back plate.
• Optional integrated motion sensor with daylight harvesting (Smart Blu™ technology).
• Proudly assembled in Houston, TX and backed by our industry leading ten-year warranty.
Pricing & Availability
For pricing and product availability please contact customer service at 866-972-9191 or email customerservice@usled.com
For more product information please visit: www.usled.com/lsf
About US LED
For over 18 years, US LED has been manufacturing a diverse portfolio of indoor and outdoor LED lighting solutions for commercial and industrial applications. Because of our early history in LED lighting, US LED has decades of engineering expertise to continuously offer ultra-long-life luminaires that approach or exceed 200,000-hour L70 lifetimes and are backed by an industry-leading ten-year warranty. Many of our lighting products are assembled in our plant in Houston, Texas.