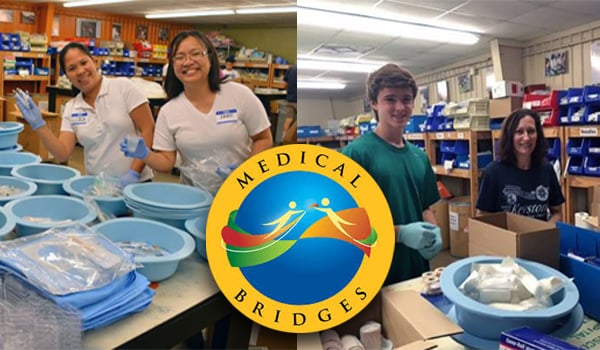 It's estimated that more than $9 billion worth of surplus medical supplies are discarded each year in the United States as a result of materials that have been opened but never used, or items are just outdated according to U.S. standards. Unfortunately, less fortunate countries are in desperate need of medical supplies and could use these same stockpiles. Enter Medical Bridges, an organization that bridges the healthcare gap by distributing surplus medical supplies and equipment to under served communities and countries.
Medical Bridges was established in 1997 after Dr. Patricia Brock Howard and colleague Dr. Margaret Goetz became distressed by local healthcare conditions while on a medical mission in El Salvador. After returning to Houston, they worked to create a recycling program to send medical surplus to qualified healthcare providers who needed them in the world's most at risk populations. To date, Medical Bridges has shipped more than $60 million worth of medical supplies and equipment to 81 countries around the world. Early this year US LED had the opportunity to help support this cause and help further its mission, by donating 500 ultra-long-life LED tubes for their warehouse. This warehouse is critical for staging and sorting the medical surplus that's shipping all over the world.
"The gift of light and the support of US LED is greatly appreciated and vitally important to our day to day operations," says Walter Ulrich, President & CEO of Medical Bridges. "The warehouse is well lit and safe. Our staff is more productive, and our energy costs have been reduced thanks to US LED."

Medical Bridges Warehouse Before & After The New LED Tubes
If you'd like more information about Medical Bridges or want to find out how you can help support their mission, please visit www.medicalbridges.com or contact them via the information below.
Medical Bridges
P.O. Box 300245
713-748-8131
About Medical Bridges
Medical Bridges recovers medical surplus that would otherwise be discarded and redistributes it locally for disaster response, and to hospitals, clinics and healthcare providers in less fortunate countries. Our goal is to bridge the healthcare gap, connecting those who have with those who hope. Each person who receives medical care because of a Medical Bridges donation is a testament to the power of giving health and giving hope.
About US LED
For 18 years, US LED has been manufacturing a diverse portfolio of LED lighting solutions for commercial and industrial applications. Because of our early history in LED lighting, US LED has decades of engineering expertise to continuously offer ultra-long-life luminaires that approach or exceed 200,000-hour L70 lifetimes and are backed by an industry-leading Ten-Year Warranty. Many of our lighting products are assembled in our plant in Houston, Texas.