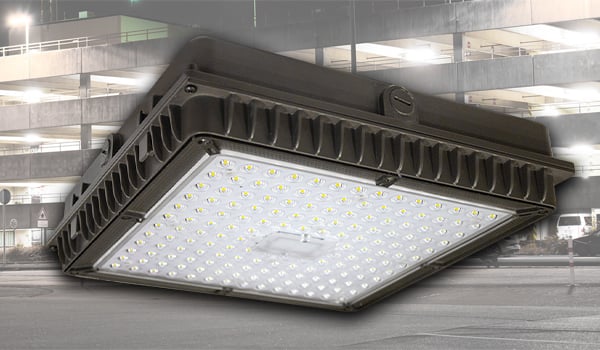 Houston, Texas (Novermber 4, 2019) — US LED builds upon its unique outdoor product portfolio with the new QubePark XL LED Garage Canopy luminaire. Designed for ultra-long lifetime and output, the QubeParkXL is the latest advancement in outdoor lighting from US LED. This outdoor LED solution exceeds standards with its streamlined installation, minimal power consumption, and optimal photometric performance. The QubePark XL provides years of maintenance-free operation for parking garages, business campuses, retail areas, loading docks, and other covered walkway areas.
Delicately Designed for Durability
The QubePark XL LED luminaire is a slim, low profile lighting solution that's easily mounted below the canopy deck. Built with a rugged yet aesthetically pleasing design, this luminaire can easily blend into any existing architectural plan. The QubePark XL is available in two sizes and can easily replace a wide range of legacy lighting, including CFL and metal halide technology. The IP65 rated enclosure prevents intrusion from elements that could degrade performance and truly makes it environmentally flexible for a wide range of uses.
Proven Performance That Matters
QubePark XL has been thoughtfully engineered for the proven performance and flexibility you've come to know from US LED. Its robust housing accommodates lumen packages up to 11,440 lumens and efficacies up to 158 LPW. The precision-molded acrylic lens provides Type V light distribution that's perfect for indoor parking and canopy areas. The QubePark XL can also be integrated with a microwave motion sensor that provides multi-step dimming, which is critical for meeting mandated energy efficiency standards. With a L70 calculated lifetime approaching 200,000 hours, the QubePark XL will continue to outperform other canopy luminaires in the marketplace long after they've expired.
Product Features
Available in two sizes with lumen packages up to 11,440L and 158 LPW.
<200,000 hours L70 Calculated Life
Best-in-class LEDs available in 4000K and 5000K (minimum 70 CRI).
Housing is hinged for easier mounting and access in the field.
Surface or pendant mounted.
Assembled in Houston, Texas and backed by an industry leading 10-year warranty.
About US LED™
For 18 years, US LED has been manufacturing a diverse portfolio of LED lighting solutions for commercial and industrial applications. Because of our early history in LED lighting, US LED has decades of engineering expertise to continuously offer ultra-long-life luminaires that approach or exceed 200,000-hour L70 lifetimes and are backed by an industry-leading Ten-Year Warranty. Many of our lighting products are assembled in our plant in Houston, Texas. For more information, please visit www.usled.com and follow us on LinkedIn, Facebook, Twitter, and Instagram.