How taking the time to plan your lighting retrofit project and understand your options
can help ease the transition to LED lighting for your storage facility.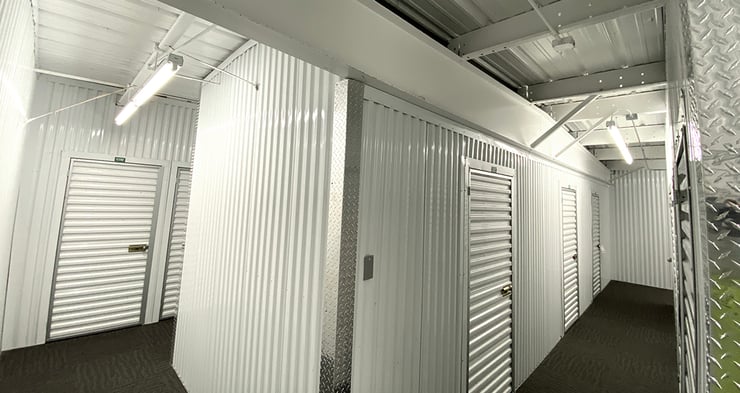 While more self-storage operators are "seeing the light" regarding the benefits of LED lighting and are considering a lighting retrofit of their facilities, many operators are still reluctant to make the switch. But, of course, the reasons for upgrading far outweigh any to wait any longer. These include increased energy savings, meeting sustainability goals, taking advantage of rebates and tax credits, and, last but not least, improving safety and visibility.
It's estimated that LED lighting utilizes up to 75 percent less energy while outlasting and outperforming other types of lighting. Because lighting accounts for a significant portion of monthly energy use in storage facilities, the potential for substantial energy savings is tremendous. Additionally, as opposed to inefficient light that produces heat waste, a properly designed LED lighting plan will reduce a self-storage facility's "heat gain," resulting in lower cooling requirements and less reliance on your HVAC system. All of which means fewer costs for your business and a great return on your investment.
Reducing Lighting Retrofit Costs
Even with all the stacked benefits of upgrading to LED lighting, some self-storage owners still haven't made the move because of the perceived expense. However, there are several routes to alleviate the capital expenditure, starting with staggering the lighting retrofit and upgrading a few sections of a property at a time. By doing so, you'll immediately experience how efficient LEDs are and enjoy relief with some energy savings. Then, those savings could be applied to the next phase of retrofits. Furthermore, utility rebates can also cover some or most of the costs of LED lighting upgrades. Finally, many lenders offer low-cost financing for projects that help to implement energy-saving solutions (like lighting) that are better for the environment.
Ensuring Proper Planning with Photometric Layouts
For planning lighting upgrades, self-storage operators and management firms should consult with a lighting manufacturer who offers photometric studies (or lighting layouts) to propose solutions accordingly. For example, a lighting designer can create 2D/3D lighting layouts that show a visual report of a property that identifies the fixtures used, the fixture locations, and how the lighting will perform throughout the space. In addition, photometric analysis can assist if recommended lighting targets are being met, what the electrical needs will be, and help with budgeting accordingly.
These lighting layouts are critical for ensuring that lighting complies with local codes, including any Dark-Sky requirements to mitigate light pollution.
Keep Your Options Open
When choosing LED lighting for your self-storage facility, purchase high-quality, thoroughly tested solutions designed for long-term performance and come with a warranty. More specifically, LED lighting with significant L70 lifetimes will ensure that it performs for a very long time and avoids potential replacement headaches. While LEDs increase lighting efficiency while decreasing energy costs, using occupancy sensors can increase energy savings even more by turning lights on when people visit a self-storage facility and turn off when no one is there. To ensure optimal efficiency, consult a lighting expert to create the lighting layout using occupancy sensors to ensure maximum spacing and lighting uniformity.
The most common sensor types and mounting styles include:
Passive infrared (IR) sensor: This measures infrared light emitted from body heat when a person is present, but objects like doors or shelves can obstruct it.
Ultrasonic sensor: This uses an ultrasonic high-frequency sound wave to detect occupancy but can be hindered by HVAC, doors opening and closing, and other false triggers.
Dual tech sensor: Combines the passive infrared sensor and ultrasonic sensor.
Wall-mount: This is used mainly in restrooms, break rooms, and smaller offices.
Corner-mount: With a typical range of up to 65 feet, they are perfect for long hallways.
Ceiling-mount (two-way or 360 degrees): Two-way is suitable for hallways, while 360 degrees is good for open settings.
It is highly recommended that a certified lighting expert assists with the input and the design of a lighting plan that includes sensors and additional controls. With a professional lighting audit and layout, you'll have a holistic view of your entire system so that it meets occupancy requirements.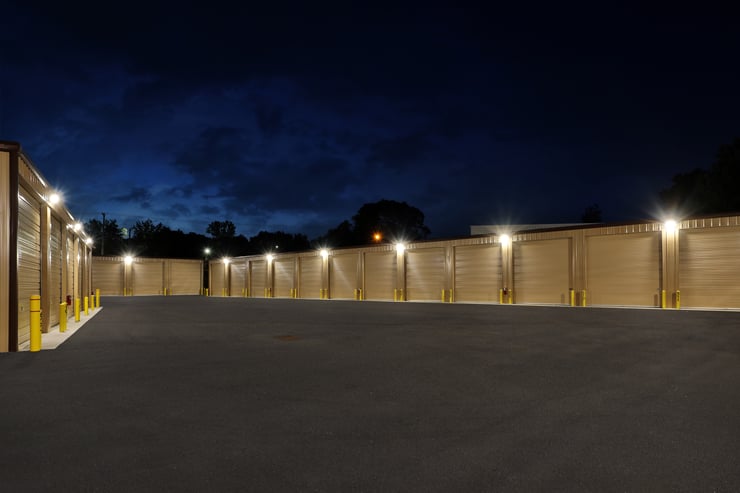 Enhancing Safety and Security
In addition to a host of cost-saving benefits, LED lighting helps you increase facility safety and security, providing a worry-free experience for tenants. The right amount of lighting makes for a comfortable environment, prevents accidents, and discourages criminal activity. Put simply, a facility that is not properly illuminated is unsafe because it contributes to tripping hazards and turns certain areas into danger zones by encouraging criminal activity. To ensure safety, consider positioning the proper lighting in places to provide adequate illumination and supplement it with motion detectors and surveillance cameras. Motion sensors will automatically turn the lights on whenever there's movement, allowing the cameras to record vital information.
As a self-storage operator, it's best to stay up to date on the latest lighting design trends and technology that could benefit your facilities. Whether building a new site or retrofitting an existing one, consult a lighting professional about developing a plan to save money and energy while improving visibility, safety, and security.