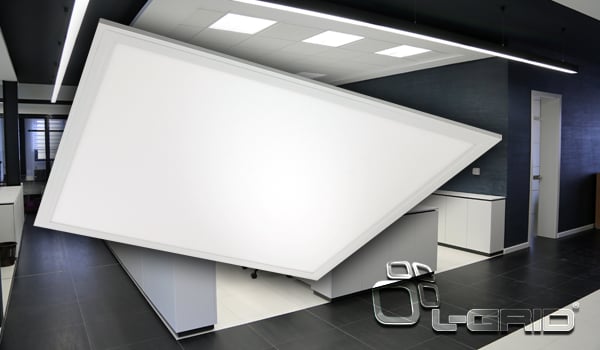 Houston, Texas (October 7, 2019)
—
US LED
adds to its unique indoor product portfolio with the new L-Grid® Edge Xtreme XL edge-lit flat panel troffer. Engineered for new construction or retrofit applications, this indoor LED lighting solution offers a streamlined form factor that's on the cutting edge of design and energy savings.
US LED's new L-Grid® Edge Xtreme XL is designed to be the optimal lighting solution for lighting educational facilities, offices, retail spaces, industrial areas, and any other commercial applications. With convenient installation options and engineered to fit standard T-grid layouts, it allows for easy one-for-one replacement without disrupting the look of an overall space. The low-profile housing is available in 1x4, 2x2, and 2x4 models that accommodate lumen packages up to 5,180 lumens. Most importantly, for applications that don't offer T-grid ceilings, the L-Grid® Xtreme XL has a surface mount kit accessory available for professionals to quickly finish installation.
• Available in 1x4, 2x2, and 2x4 models with packages up to 5,180L and 138 LPW.
• 172,000 hours L70 Calculated Lifetime.
• Best-in-class LEDs available in 3500K, 4000K, or 5000K CCT (minimum 80 CRI).
• Designed to facilitate quick installations – can be recessed in traditional T-Grid or surface mounted using a separate kit accessory.
• Proudly assembled in Houston, TX and backed by our industry leading ten-year warranty.
For 18 years, US LED has been manufacturing a diverse portfolio of LED lighting solutions for commercial and industrial applications. Because of our early history in LED lighting, US LED has decades of engineering expertise to continuously offer ultra-long-life luminaires that approach 200,000-hour L70 lifetimes and are backed by an industry-leading Ten-Year Warranty. Many of our lighting products are assembled in our plant in Houston, Texas.